The 5G radio spectrum is divided into frequency bands, with each allocated by governments for use by various entities, like wireless companies, satellite companies or government agencies. 5G uses various low-band, mid-band and high-band frequencies that differ from previous wireless protocols such as 3G and 4G LTE to maximize the potential of this new generation of wireless communication.
FCC 5G spectrum definition:

Mid-Band is critical for 5G deployment 
5G, is not just another generation evolution in the mobile communications. 5G promises a revolutionary improvement to cater for offerings like mMTC (promising an unprecedented number of connected devices working in tandem supporting domestic and industrial applications), eMBB (promising 10Gbps download speeds), URLLC (promising less than 5Millisecond end to end latency and reliable data exchange for mission critical applications like self-driven cars and fully automated complex industries). 5G services allowing communication with high speed and low latency and giving devices nearly real-time ability to sense and respond, will lead to many benefits across a range of business and consumer activities. A new range of 5G use cases and industrial applications like heath care, retail, manufacturing, logistics that converge connectivity, edge computing, AI, Internet of Things (IoT), and vehicle to vehicle (V2X) technologies will benefit everyone from households to governments. 
To realize these benefits, 5G networks will use low bands for extended coverage and high bands (mmWave) for large bandwidth. Mid-bands have a special significance. They provide large bandwidth and have a much better propagation characteristics than mmWave.
Mid-band offers balanced performance characteristics of low-band capabilities (favorable signal range and indoor penetration) and higher-band benefits (increased capacity for faster speeds and lower latency). Mid-band 5G can cover more distance than high-band 5G, and with more speed and capacity than low-band 5G. In terms of capacity, some 5G use cases will demand significantly higher peak data rates for faster connections and low latency, which will require wider channels than what is available in the lower bands. To provide a sufficient platform for wireless innovation and achieve gigabit-level speeds for mobile broadband service, channel bandwidths of 100 MHz are needed. 
Mid-band spectrum is well-suited for robust, wide-area macro 5G offerings and Mid-band deployments can also use a smaller number of base stations to support traffic over larger coverage areas which reduces costs by decreasing the number of required base stations. These make mid-band with the distance and capacity well balanced to serve cities, towns, suburban areas, and both consumers and businesses.
Mid-Band Spectrum Recap
FCC defines Mid-band 5G spectrum ranges from 2.4 GHz to 4.2 GHz between low and high frequency bands, and has segments for 2.5 GHz (N41), 3.45 GHz (DoD), 3.55 GHz (CBRS N78) and 3.7 – 4.2 GHz (C-Band N48).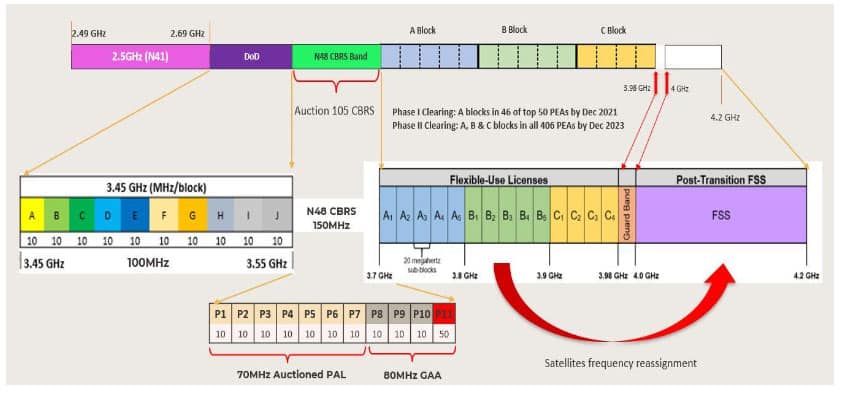 Mid-Band Spectrum allocations 
The source of this information comes from FCC spectrum ownership data across the country. The following chart shows the ownership of all mid-band spectrum of four nationwide MNOs in US.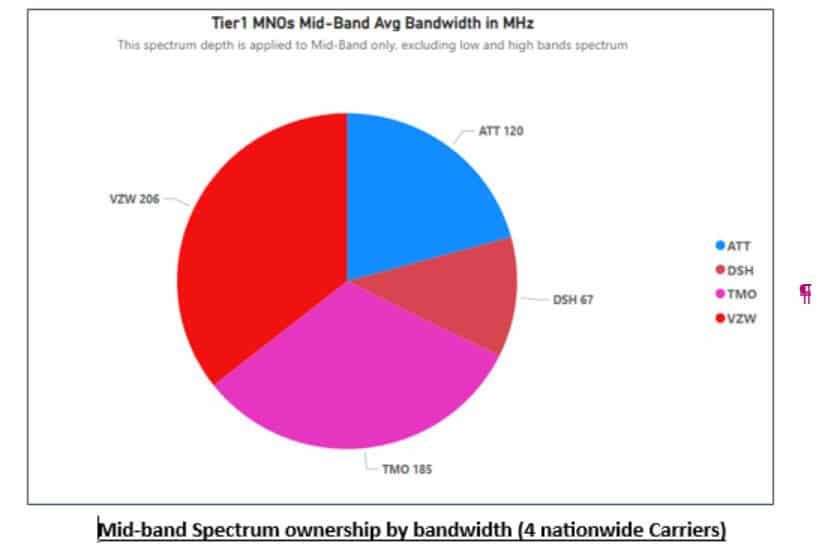 How much did Tier1 MNOs pay for the mid-band spectrum? Here is the chart showing how much each operator has paid to FCC to get the spectrum ownership for the certain time being.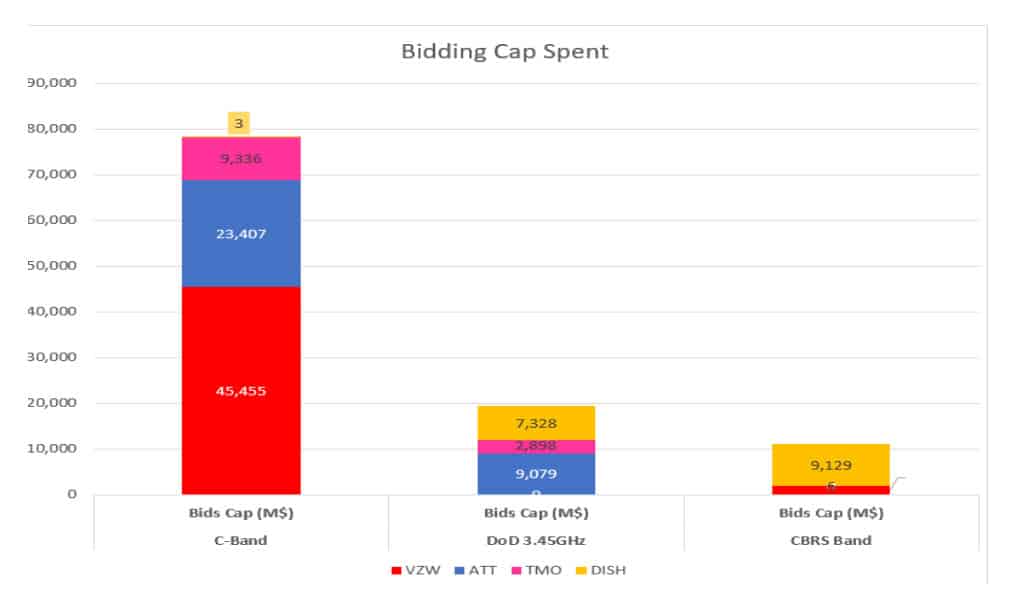 In addition to the 4 nationwide MNOs, newer operators like Comcast, Cox, and Charter communications, are working on building their own networks to offer 5G wireless access and broadband service at a large scale. Their focus is offering a scalable network using mid-band (CBRS) spectrum. 
Serving wireless industry for nearly 20 years, NextGen/GTA, A Kelly Telecom Company is proudly engaged with most of the tier1 MNOs and other carriers to help rollout 5G across the United States. We offer end to end engineering, deployment and fiber solutions and staffing support to the carriers, OEM and Tower Co's in the telecom space.